CASE
Glass kiln waste heater boiler shock wave soot blower of Xinyi Glass Holdings Limited
2017-03-28
Xinyi Glass Holdings Limited, a major supplier in the global supply chain, was founded in 1988 and listed on the main board of the Hong Kong Stock Exchange in February 2005.(Stock Code:00868.HK)Xinyi boasts the domestic leading technical strength with a R&D center appraised as the provincial enterprise technical center in 1997. The company has been committed to R&D of energy-conservation and environmental-friendly products, and has developed the LOW-E glass capable of being tempered and hot-bended, SOLAR-X heat-reflecting automobile glass and other environmental-friendly products, HUD glass, water repelling glass, photocatalytic glass, superpower high penetration resistant high-speed train glass, and other new products.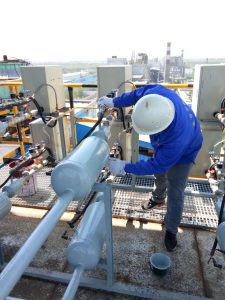 Glass kiln waste heat boiler of Xinyi Glass factory, choose the Kang million environmental technology shock wave 40 sets soot blower, after putting into operation, effectively guarantee the tube cleaning, improve Steam turbine to generate power .so to ensure the normal operation of the waste heat power generation system.
MESSAGE
Please Feel free to give your inquiry in the form below. We will reply you in 24 hours.